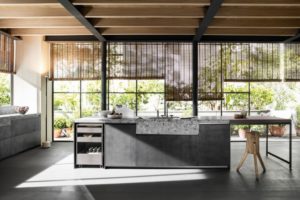 Dada was born in 1928 and is the company of the Molteni Group dedicated to design, project and manufacture high standing contemporary kitchen.
With its design series, Dada is now at the forefront of the kitchen market with various models (Hi-Line by Ferruccio Laviani, Banco, Nuvola, Vela, Vela Quadra and Aluminium by Luca Meda, Nomis by Hannes Wettstein, Tivalì and Trim by Dante Bonuccelli) all unique to their type, in their finishing and their materials but with a vital characteristic in common: specific elements from different series can be combined to create specific new, individual solutions. In other words Dada offers the possibility of personalizing the kitchen and aims at satisfying the needs of an experienced customers demanding a high-quality product which is also functional.
Design and innovation have always been Dada's signature features.
The Armani Group and the Molteni Group announced the beginning of a joint partnership for the future production and distribution of kitchen systems under the brand name "Armani/Dada". Today under the Armani-Dada brand there are three kitchen families: Bridge, Slide and Checkers.
Armani/Dada Systems are available from single brand Armani/Casa outlets as well as the most appropriate concept stores belonging to the Molteni Group.
Website links:
DADA product families (click on the text to see more):
Some inspirational pictures (click to enlarge):